Coronavirus, how to report COVID-19 cases and advice for the Sapienza Community
On this page all members of our community can find information and guidelines for university activities based on the current COVID-19 regulations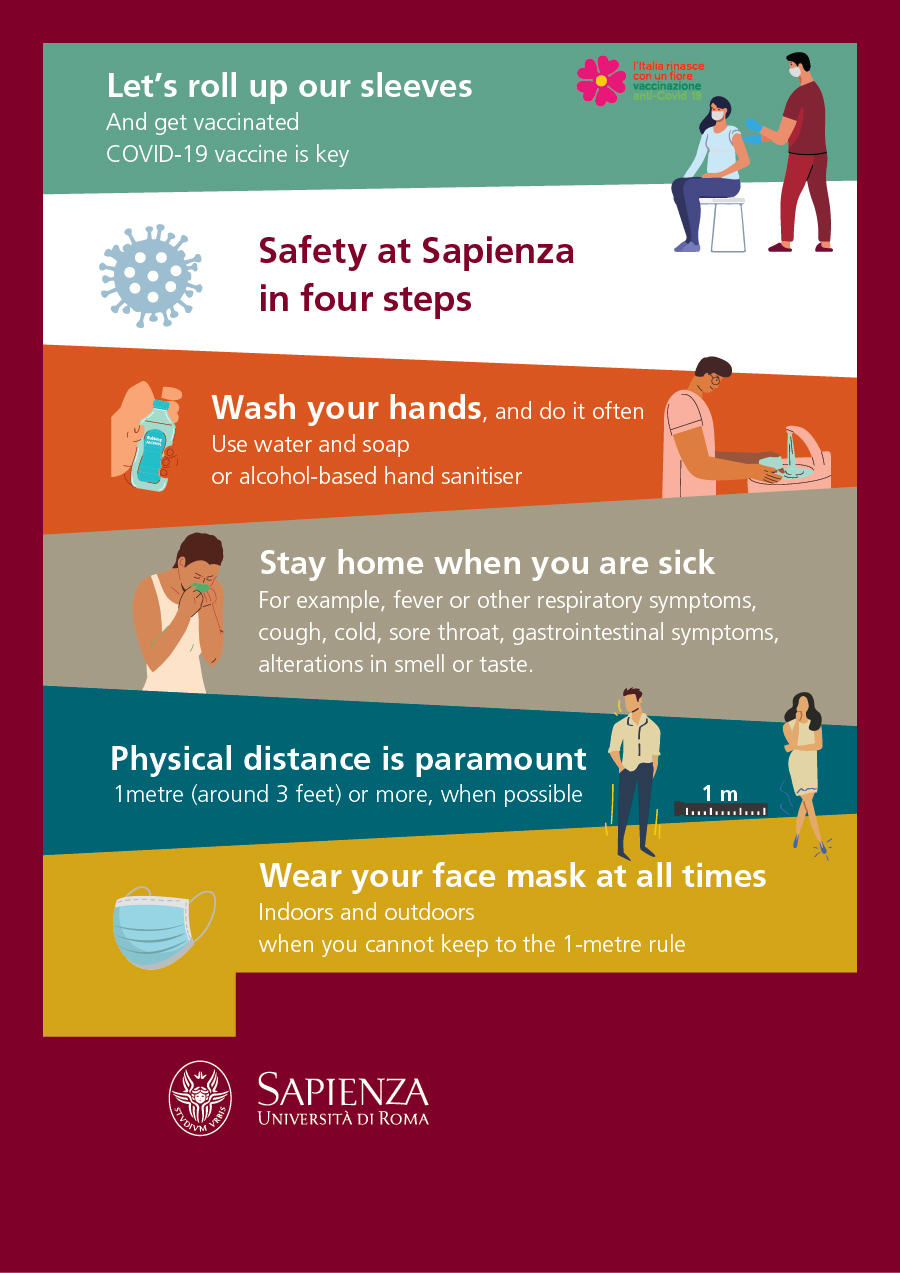 How to access Sapienza premises
Sapienza follows the indications laid down for accessing universities. Click on the following links for more details:
Risk of infection is still high: wear your face mask where necessary
How to report COVID-19 positive cases
For Sapienza staff
Self-reporting for students 
COVID-19 emergency
Since September 2020, the University has updated its precautionary measures, with new documents for the different activities and guidelines for classroom teaching.
The doctors of the Specialisation School in Hygiene and Preventive Medicine of Sapienza University, supported by the University Communication Office and the InfoSapienza Centre, created a video which illustrates the four fundamental rules to face the resumption of activities after the COVID-19 emergency in complete safety for oneself and others.
Here the four steps in English:
Wash your hands, and do it often. Use water and soap or hydroalcoholic solutions.
With fever or other respiratory symptoms, stay at home—for example, cough, cold, sore throat, gastrointestinal symptoms, alterations in smell or taste.
Physical distancing is very important. Two metres (around six feet) or more but never less than 1 metre.
Wear your mask at all times in public spaces and when you cannot keep the six-foot rule.
Watch the video (in Italian) and download the flyer (in Italian)
Tracking service for COVID-19 cases in classrooms, libraries and study rooms
Protect yourself and your family and friends by checking for positive cases around you.
Quarantine, isolation and return to work after infection or exposure
Lectures, exams and graduation sessions
Click on the following page for all details and information:  
Prevention and protection measures for in-person activities
Since September 2020, with the resumption of in-person educational activities, our COVID-19 prevention and protection measures have been updated, and a handbook on how to organise in-person educational activities safely has been published.
Sapienza Task Force
Sapienza University of Rome, to preserve the university community's health, is implementing the protective measures issued by the Italian Health Authorities against the COVID-19. A task force has been set up, composed of scientific experts and prevention office managers. The task force has been carefully following the international and national epidemiological development and the updates given on official sources.