Microsoft Office for students and Sapienza staff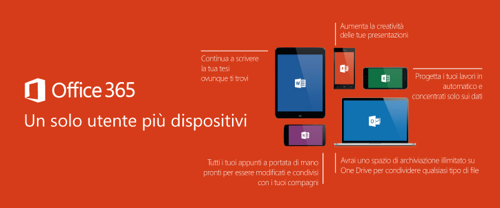 Download your Microsoft Office set for free
Sapienza makes Microsoft Office available free of charge to all enrolled students and both academic and administrative staff. Office 365 includes the latest versions of Word, Excel, PowerPoint, OneNote and much more.
Each user can install Microsoft Office on up to 5 PCs or Macs, 5 tablets (including iPad) and 5 smartphones
Microsoft Office can be used with OneDrive for automatic device synchronisation
To get Office, follow these simple steps:
To access the download, you must provide your institutional e-mail address @studenti.uniroma1.it (students) or @uniroma1.it (academic and technical-administrative staff).