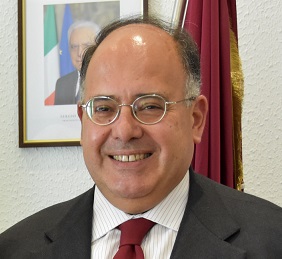 Eugenio Gaudio is Rector of Sapienza since November 1, 2014.
Since April 20, 2020 he is Counselor for the Ministry of University and Research for the health education field and relationships with the National Health Service.
From October 2019 to March 2020, Rector Gaudio was President of Civis - A European Civic University, the new European university that brings together ca. 400,000 students and 55,000 faculty and technical-administrative personnel.
Eugenio Gaudio was born in Cosenza, Italy on September 15, 1956. He is married and has two children.  

Prof. Gaudio has a degree in Medicine and Surgery obtained from Sapienza University in 1980 and a Masters Degree in Internal Medicine (1985).
After conducting research on Human Anatomy at Sapienza University from 1983 to 1986, Prof. Gaudio began teaching at the University of L'Aquila in 1987 and served as Dean of the Faculty of Medicine and Surgery from 1997 to 2000.
In 2000, Prof. Gaudio returned to Sapienza as a Professor of Human Anatomy and began coordinating the PhD programme in Experimental and Clinical Hepatology (now Experimental and Clinical Hepato-Gastroenterology).
Since 2011, Prof. Gaudio has coordinated the degree programme of the International Medical School. From 2008 to 2010, Prof. Gaudio was also Director of the Department of Human anatomy. Since 2010, he has been President of the Faculty of Pharmacy and Medicine and President of the Permanent Conference of Italian Faculties and Schools of Medicine and Surgery. 
Eugenio Gaudio also earned a diploma in piano from the Conservatory of L'Aquila in 1979 and from 2006 to 2010, served as President of the Sapienza Music Commission coordinating the university orchestras and choruses.
Eugenio Gaudio is the author of over 500 scientific publications on issues addressing liver structure and ultrastructure, experimental and clinical hepatology and microcirculation, most of which have been published in leading international journals. Moreover, these 35 years of studies have allowed him to obtain an H impact index of 35. Prof. Gaudio is also included in the list of Top Italian Scientists - My Google Scholar Citations with over 4300 citations and a total impact factor: > 700 (JCR Science Edition 2012).
Prof. Gaudio's scientific research has been developed through the organization and direction of inter-university and international research teams and in major PRIN, FIRB, CIPE and NIH projects. More recently, his research has mostly focused on the study of the mechanisms that regulate the proliferation, differentiation and death of biliary tree cholangiocytes, as well as the identification, localization and activation of liver stem/progenitor cells and their use in chronic liver disease therapy. Prof. Gaudio has collaborated with major international research centres, including the Texas A&M University Research Unit (USA) and the UNC School of Medicine, Chapel Hill, North Carolina (USA).
In 2012, Prof. Gaudio became President of SIAI (Italian Society of Anatomy and Histology) and President of FISBI (Italian Federation of Biological Societies) in 2014.
Prof. Gaudio has authored 12 textbooks and atlases of human anatomy for Medicine and Surgery students. Moreover, Prof. Gaudio is on the editorial boards of many international scientific journals, including Hepatology, Digestive & Liver Disease and World Journal of Gastroenterology. He is a reviewer for Anatomical Record, J Anatomy, Gastroenterology, American Journal Physiology, J Clinical investigation and Am J Pathology. Prof. Gaudio is also a member of the "The Netter Collection of Medical Illustrations" International Advisory Board and Director of the "Netter Atlas of Anatomy, Pathophysiology and Clinical" Series.
Prof. Eugenio Gaudio holds an international patent issued in 2011 entitled "Multi-potent Stem Cells from the Extra-hepatic Biliary Tree and Methods of Isolating Same" and a patent issued in 2014 entitled "Method of Treating Pancreatic and Liver Conditions by Endoscopic-Mediated (or Laparoscopic-Mediated) Transplantation of Stem Cells into / onto Bile Duct Walls of Particular Regions of the Biliary Tree."
Prof. Gaudio is an Honorary Member of the Academy of Sciences of Bologna, a member of the European Academy of Sciences and Arts and an Honorary Professor at the Moscow State University of Medicine and Dentistry. Moreover, Prof. Gaudio has received a Gold Medal for "Public Health Services" and the title of Commendatore dell'Ordine of the Italian Republic.
On November 1, 2019, at the Wuhan Zhongnan University of Economics and Law presented Prof. Gaudio with the prestigious Honorary Doctoral Degree in Economics and Law of the People's Republic of China.
Magnifico Rettore
Eugenio Gaudio
Rector's Office Manager
Alessandra Vana

Staff
Rita Palma
Lucia Antonini
Technical Office
Giuseppe Lopez
Silvia Prometti
Tel
(+39) 06 4958568
(+39) 06 4991 0292
Fax
(+39) 06 4991 0382
Email
rettore@uniroma1.it
Rector and Vice Rector Office Area
Alessandro Procaccini
Alessia Birarelli
Tel
(+39) 06 4991 0020

Fax
(+39) 06 4991 0518
Email 
rettore@uniroma1.it