Sapienza Quality Assurance
Quality Assurance and the AVA System
The AVA System, which includes self-evaluation, periodical evaluation and accreditation, integrates a series of activities that universities must conduct to ensure the quality of their services:
Development and management of academic programmes;
Self-evaluation, re-examination and improvement of academic programmes and research;
Quality assurance of education;
Quality assurance of research;
Evaluation and sustainability;
Management of programme accreditation and facilities.
The university quality assurance model, which is established by ANUR, follows this scheme: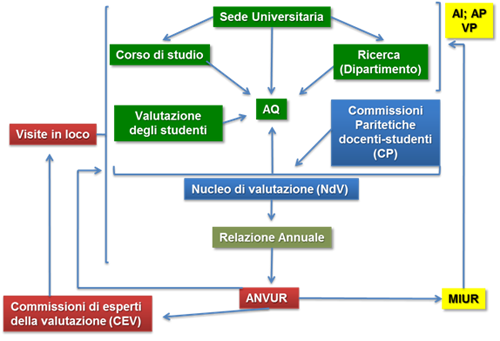 The key components of the ANVUR Quality Assurance Model include:
Evaluation Nucleus
Quality Commission
Professor-Student Commissions
Degree Programmes
Departments
The objective of this model is to implement quality assurance both in education and research.
The offices that design and develop degree programmes (Degree Programme Commission, Subject Area Commission, etc.) and those that develop research activities (Departments, Research Centres, etc.) must also implement quality assurance procedures by:
Defining objectives;
Identifying and implementing activities that lead to the objectives;
Verifying that objectives are reached.
The university governance must implement – through the supervision of the Quality Commission – a university quality assurance system that will efficiently promote, guide, monitor and verify quality assurance processes and activities in individual degree programms and departments.
Quality Assurance at Sapienza
Sapienza has matured an important experience in academic quality assurance. In 2005, it initiated its own quality assurance system for degree programmes that was based on the model of the National Council for University System Evaluation (CNVSU), the PerCorso Qualità(PCQ), which calls for degree programmes to be developed and managed according to criteria aiming to continuously improve quality both in terms of the degree programme and the satisfaction of all parties involved.
Moreover, in 2009, in order to order to ensure the ongoing application of this process, the Sapienza Rector defined the basis for the Sapienza Quality Assurance System by appointing a Quality Team to develop all necessary tools and methodologies, organised training and professional updating workshops, and coordinate and monitor the quality assurance experimentation at Sapienza.
Furthermore, in view of the growing importance of quality assurance, the new Sapienza Statute confirmed the governance guidelines and officially introduced the Quality Commission. Subsequently, the Sapienza Academic Senate and Board of Administrators updated the Sapienza Quality Assurance Model to adhere to all recent regulations.
In order to ensure the full compliance with quality assurance in a university as large and complex as Sapienza, several offices are involved in the implementation of the quality assurance system. Besides the Central Administration (Strategic Planning and Communication Area, Academic Programmes Area,  Student services Area, Research and Technology Transfer Area, International Office, InfoSapienza, Accounting Finance and Management Control Area) and the University these include:
Accreditation Steering Committee;
Quality Team;
Research and Teaching Evaluation Committee;
Didactic Committee;
Research Committee;
Faculties;
Monitoring Committees;
Professor-Student Joint Committees;
Departments;
Degree Programmes;
Quality Assurance Management Committees